Drawing Portraits Made Easy with
the Help of your Personal Coach
Portrait Drawing Personal Experiences
Drawing portraits has always been, and will continue to be one of the greatest aspects of drawing.

I found my first serious love of drawing when I traveled to Florence, Italy. It was there that I saw the many artists drawing portraits on the street. I would stand and stare at their amazing technique - for me, watching them work was a new experience and one of my most cherished memories from my travels in Europe. I wanted to live the life of a portrait artist! They made face drawing fun, they made it look easy. After seeing these street artists at work, I knew immediately that I wanted to start drawing portraits and become a portrait artist myself.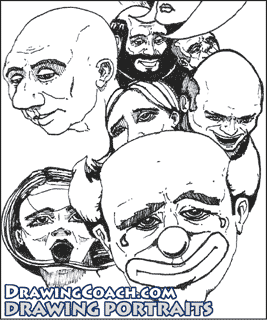 A Rocky Start and the Need for a Guide
I began to look through catalogues, magazines and newspapers for interesting faces to draw. I thought I was doing great works of art, but in reality, what I was drawing, was not very close to capturing the sense of life that the Italian artists seemed to put to paper so easily. It wasn't until one of my art teachers asked me to draw a portrait for her that my real journey into drawing portraits and the human face would begin. She was honest and she was brutal. She verbally tore my picture to pieces, but this is exactly what I needed to spur me into action.
What I want to give to you is the same thing that she gave to me - a simple path to follow to really start to bring your portrait drawings to life. Like everyone learning to draw I'm sure that you're eager to get started so lets get to it.
Portrait Lessons
There is, in my opinion 6 important parts of the face that you must master if you are attempting to become a portrait artist. Master these lessons and I guarantee that you will set a new standard for excellence among your peers and colleagues.
Don't Miss This - Learn to Draw from Professional Artists
Are you looking to make a breakthrough with your artistic abilities?
Artists from the world's top studios like Disney, Nickelodeon, Blue Sky, and Pixar are sharing their hard-earned knowledge so you can learn directly from the people who create the amazing comics, movies and cartoons that we all watch and love.
If you're tired of looking for a good teacher - stop looking right now and click this link.