Everything You Need to Know About
How to Draw Caricatures
If learning how to draw caricatures is what you're after, then you've come to exactly the right place. Caricatures aren't necessarily hard, but if it's your first time trying one it might seem a little bit daunting.
I've been there - trust me, but don't worry because fortunately there are systems that you can follow to help you easily get awesome results without having to spend years and years practicing.
By the time you finish the tutorials on this site you should be able to easily draw caricatures from photographs, still life and also from memory.
Want to Learn how you can Draw your own Caricatures?

I have put together a brand new course that will teach you everything that you need to draw your own funny caricatures no matter what your current artistic level is at.

The course is going to be available for a limited time only, so hurry over to the website below to get all the up to date information!
Nothing is quite as impressive to other people when you can come up with a great looking drawing straight out of your head. But before we get ahead of ourselves let me tell you a little about how I got started...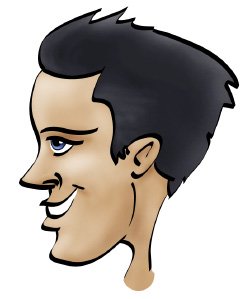 ...I was recently hired as a caricature artist at a new club for a special party they were having. Basically I walk around as people are dancing and having fun and ask them if they would like to have their portrait drawn free of charge. The first night doing this I will honestly admit that I was not on my "A" game and naturally I felt bad that I had given some pretty awful looking caricatures.
It was not a very fun night but when I came home I really set out to learn how to draw caricatures properly. In only a few hours I was able to begin to understand some of the little tricks that professional caricature artists use. After a few more days of practice I was able to draw these cartoon faces without any problems at all.
Needless to say the next time I was hired the results were spectacular. The people I drew felt really good because the improved caricatures really brought out their personality, and I was happy because they were happy.
So what I offer to you here is my complete knowledge drawing caricatures. From start to finish I know that you will be amazed at the kind of drawings you're able to do once you've finished reading the tutorials.
Even if you think you can't draw anything at all right now, or in your own words you," Suck," I guarantee that you will learn the secrets of how to draw caricatures that will let you draw like a pro no matter what your current skill level is.
Go ahead and give it a shot, you've got nothing to lose and everything to gain!