Construction Ahead:
Building a Cartoon House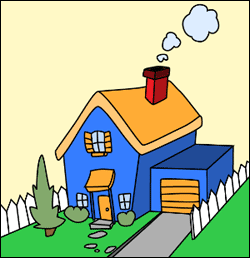 Drawing a cartoon house can be quite difficult if you don't break down the steps and work with basic geometric shapes. However, if you start simple, you can have a lot of fun building a house that you'd like to live in. Put on your hard hat, and let's get started.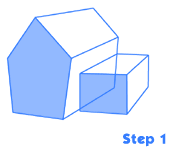 Step 1 - Building the Frame
Okay, you took math, and you can draw a fairly straight line. We're going to go back to geometry and make some shapes. If you'd like, you can reference the 1 point perspective tutorial available HERE and learn how to draw in 3D.
The front of your cartoon house is just a pentagon, and it doesn't even need to be perfectly even. The other shape that you'll need to start is a square. The parts of the image to the left shaded in blue are the basic shapes. Once you have the basic shapes, use perspective to give depth to your cartoon house.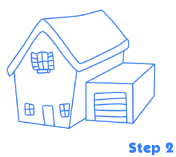 Step 2 - Raising the Walls
Your cartoon house will take on a bit of character here. The garage door is simply a square with horizontal lines running through it (roll-up doors have sections, right?).
For the house, start with the door, right in the middle of the bottom, a simple rectangle standing on end. Place a standard window on each side of the door - squares with a "+" sign inside. Inside the area above the door , place another window.
Now, add shutters with a rectangle out to each side (add horizontal lines for slats) and a ledge, a simple thin rectangle underneath. Finish out the roof by copying the existing lines with a parallel line and connecting at the ends.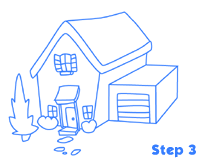 Step 3 - Landscaping
No home would be complete without a yard, and your cartoon house deserves no less. Under each lower window, draw a simple "blob" that will represent bushes. Above the door, add an overhang - a "rhombus." Are you getting out your old geometry notes yet? It's a slanted square. Add a rectangle on the bottom and another on the right to make it 3-dimensional. I like for my front door to have a stoop, so add two small rectangles in front of the door.
A doorknob helps to open the door, and you can build a door frame with two vertical lines right next to each other on either side of the door. Add a tree for shade in your yard - basically a tall flame topping what looks like a small coffee cup shape for the tree's trunk. Add some round shapes leading up to the stoop to resemble stone steps. Your cartoon house is almost complete.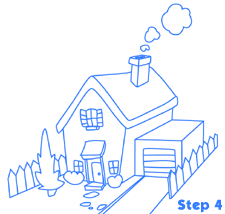 Step 4 - Moving In
To get to your garage, you'll need a driveway, so add two straight lines coming from the garage door almost on top of each other on each side of the door. A picket fence keeps nosy neighbors away, so place a fence on both sides of the house. The fence posts are basically rectangles topped with triangles.
Add a chimney with two rectangles standing on end and two more lying on their sides on top. Finish by adding clouds of smoke to show that someone's at home.
Now that you've finished drawing your cartoon home, you can add some personal touches, like a custom paint job, vinyl siding, or even a satellite dish to the roof