Technical Drawing Software:
an Overview of Your Creative Options
Technical drawing software is a small side step from drawing software, but if you have a creative side and you're willing to explore it on the computer then you should not overlook the possibilities here, especially some of the cool stuff you can do with 3D software.
The main difference is that tech drawing tends to be a little more mechanical and calculated, but this has an advantage in that the things you design can often be created in the real world by hooking the software up to real world machine like CNC machines.
You can design all kinds of things like floor plans for houses, electrical circuits and even toys it's up to you how you use the software. Because the drawings are so accurate it's easy to go from the computer into the real world.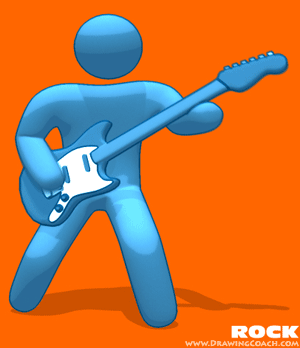 Example of a 3D Rendering I Made for A Video
This is Cool! From the Virtual World to the Real World
An example of this is a robot that I designed while in university. I used the technical drawing software, or more accurately 3D software named 3D studio max to make a picture of the robot I designed. Someone saw the image on the internet and then asked me for permission to use the file to make it into a real toy. He had a CNC machine and was planning on selling my design. I told him that he could have the file for free, but I wanted to get the first toy that he made.
About 2 weeks later a box arrived in the mail with all of the parts for the toy - I was totally amazed at just how cool it was to make something on the computer and then be able to create a real world product from it.
What Technical Drawing Software Should you Try?
The best place to start that will give you the most creative freedom is with 3D software. All of the following recommended software packages will let you create slick looking pictures called renders, and even better most of them have a free version that you can start using right now.
ZBrush - This software is truly amazing and does the best job at bridging the gap between technical drawing software and actual drawing. If you try only one of these software packages this is the one that I would suggest - the way that you are able to easily put your traditional art skills to use is totally amazing. Free 30 day trial version here: http://www.pixologic.com
Softimage XSI - This might be the best professional 3D software out there, and if you decide that you like it enough to buy the full version it's available at a fraction of the cost of the software from Autodesk (Max, Maya). Free 30 day trial is available here: http://www.softimage.com
Blender - The full version of this program is totally free. Find more info and the free download here:
http://www.blender.org/
Maya - The most popular 3D software for games and film work. Grab the Personal Learning (PLE) version for free:
http://www.autodesk.com
3D Studio Max - My personal favorite, with a free 30 day free trial. This software is also very popular with video games.
http://www.autodesk.com