How to Draw Lessons
Let You Learn the Fun and Easy Way
Learn how to draw and improve your skill in no time with the help of an online coach. Whether you're an art teacher, art student, or just a hobbyist artist you will find the step by step education that will give you the ability to bring those images in your mind into paper reality.
I spend a lot of time looking at and evaluating art as the creative director of a computer game company. I also spend a lot of time sketching so that I can communicate my artistic ideas to the talented people I work with. This is a subject I've known and loved since I was a child and I'm fortunate enough to have even made a career out of my art ability.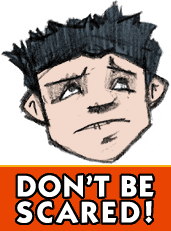 Being able to sketch with confidence is a truly great feeling, but sometimes it can be really tough, especially when you are just starting to learn how to draw! Maybe you have said this yourself in the past, but whenever I hear someone say that they 'can't,' or that they 'suck' - it's like fingernails on a chalkboard! It simply isn't true! Like anything else in life - you're not going to be great the first time give it a try, but with a little practice you will really begin to amaze yourself.
Don't let me scare you though! Learning how to draw won't be nearly as hard as you may think it is, and I'll be here to help make your transition from stick-man artist into a modern day Leonardo da Vinci as painless as possible.
Please subscribe to my monthly newsletter - Just Draw It
It's delivered at the end of each month and will inform you about new info that has been added to the site. It's a great way to keep up with the latest an greatest drawing tutorials from the coach. Sign up today and never miss out on a single lesson!
Please also subscribe to my Blog. This RSS feed about all things drawing, will keep you up to date whenever I add a new web page or make changes that you should know about. It also helps keep you moving forward toward your artistic goals by pointing out some of the golden tips, tricks and techniques that you might have previously missed.


What's an RSS feed?