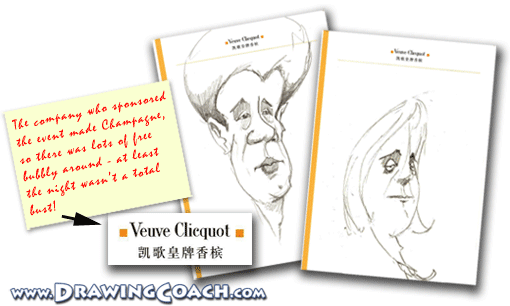 How to Not Be a Caricature Artist!
As much as I like it when things go smoothly, that's not always the case, and when a local advertisement agency contacted me to do 'portrait drawing' for them, nothing went smoothly at all...
...The company had seen my website and wanted to hire me as an artist for a promotion they were having. I thought it would be an easy way to make some money and have a good time drawing in public. Now, I'm not going to say that the night was a total disaster, but... well, just read on - you'll see how things went from bad to worse - hehe.
Mistake #1 - Right Equipment for the Wrong Job
I showed up to the event with a large easel, drawing board and large paper. When I saw the look on their faces as I walked in the door I knew that I was in for a rough night. They took my art supplies, and handed me a pad of notebook paper just like the image above.
Obviously something had been lost in translation between the girl who hired me and the expectations of the event promoter!
Mistake #2 - You Want Me to do What?!
Now, drawing portraits isn't a problem for me, and I had been hired to draw 'portraits'. The problem was that they didn't want 20-30 minute portrait drawings. They wanted me to do 3-5 minute caricature sketches.
You might be saying in your head that this shouldn't be a problem, portraits and caricatures are the same right? For further information see mistake #3 below!
Mistake #3 - Caricatures aren't Portraits, and I don't Care if Anyone Says Different!
At 3-5 minutes per drawing, that made for quite a few drawings that I had to do, and unfortunately I had a hawk of a 'boss' from Singapore watching over me and making sure my pencil was always moving. It was a 3 hour event, and let's say I did about 10-15 drawings per hour - that was about 40 very ugly caricature drawings that I had to grudgingly hand out. I really felt embarrassed, and the look on some of the people's faces was priceless - but certainly not in a good way!
If there was one saving grace for the evening, it was that the company who was hosting the event was giving away free champagne all night, so that made people a little less hostile and sensitive to the nasty drawings I was handing them.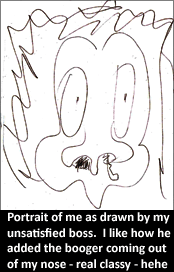 I finished off my shift and happily packed my pencils away. I really hated having to give out those poorly drawn caricatures to people. Sure, not all of them were terrible, but there were certainly more bad ones than good ones.
You can see some of the ones I didn't hand out at the top of this page - these were the best of the worst, the bad ones were put into the trash long ago!
So, as I was putting my pencils into their case and sipping on a glass of champagne the evil watchdog of a boss came up to me to make sure he told me how much I sucked. Then, to add insult to injury, he thought he should draw a caricature of me to (in his words) "Show me how it's done."
You can see his hilarious drawing on the right hand side of the page here. I'll give him an A for effort, but an F for technique - hehe.
...With My Ego and Soul Crushed, What Did I Do Next?
I kept going on of course! I spent the next few months studying and being fascinated by caricature art and techniques and I'm just now starting to collect all of that knowledge so that I can pass it on to you! But before I get too far ahead of myself I need to know that I am answering the questions that you need answered to help you become a successful caricature artist, and that's why...
...I Need Your Input!
Click the button below to take a short survey that would really help me create the ultimate caricature knowledge base to turn you into a talented caricature artist.